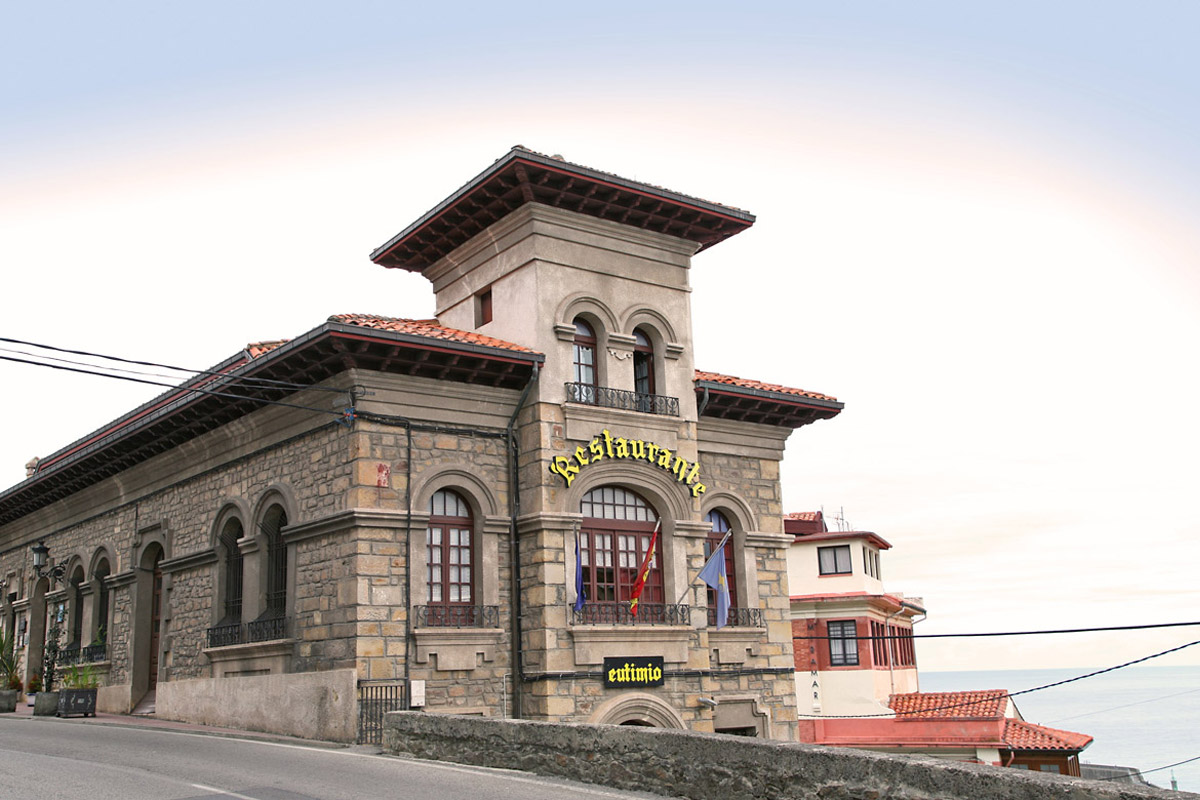 This magnificent example of an early 20th century stone "casona" is located deep in the fishing village of Lastres.
The hotel has a lounge, reading room and terrace where guests can enjoy outstanding views of the Cantabrian Sea, the Sueve Range and the Picos de Europa.
It also has an "a la carte" restaurant and café.
Location
In the centre of Lastres, on the road leading down to the port.
More details
Rooms
The hotel has 11 bedrooms : 7 double, 2 single and 2 special. All with en suite bathroom with hair dryer and welcome gifts, heating, telephone, television, minibar and piped music. The key decorative element is the house's original stone and wood.
What to see and do
The charming village of Lastres. The beaches of la Griega (important dinosaur tracks) and la Isla. The Sueve Range and its fauna. The mythical Asturcones (indigenous mountain ponies), chamois, deer, roe deer and wild boar. The Scenic Vantage Point of El Fitu. The Tito Bustillo cave paintings. Asturian Pre-Romanesque art. The Picos de Europa National Park. The Jurassic Museum in Colunga. Hiking and rock climbing. Nautical activities in the marina and on the beach in Lastres. Canoeing on the River Sella. Routes following the footprints of dinosaurs. The Asturcón festival in August. As well as aquatic activities in the "Aula del Mar" in Lastres.
Services
TV
Piped Music
Internet
Hair dryer
Minibar
Room service
Lounge
Restaurant
Terrace
Laundry
Breakfasts with a selection of buns and pastries and homemade jams. The hotel restaurant enjoys great prestige in all Asturias and is specialised in both fish and shellfish. Lobster, spider crab, velvet swimming crab, shrimps, hake, anglerfish, black bream, sea bass. And such typical Asturian dishes as "fabada", "fabes" with spiny lobster and "pote", all made with the local variety of white beans. Credit cards : Visa y MasterCard.
Rates
High season

1/07 to 30/09, Easter, Christmas and weekend holidays

Single room: 52,80 €

Double room: 66-79,20 €
Special room: 118,80-132 €
Supplementary bed: 19,80 €
Breakfast: 9,90 €
Low season

Rest of the year

Single room: 39,60 €
Double room: 59,40-66 €
Special room: 99-118,80 €
Supplementary bed: 19,80 €
Breakfast: 9,90 €
All prices in euros. VAT included. Breakfast, lunch or dinner: prices per person.
Contact
San Antonio s/n
33330 Lastres, Colunga
Principado de Asturias. España
Telephone :  (+34)  985 85 00 12
Fax:  (+34)  985 85 08 00
Owner:
 Aida Rosales Cambiella
Offers
Entre el Mar y la Montaña
Promoción válida desde 15 de Septiembre hasta Semana Santa (esta no incluida).
Noche para dos personas con cena en nuestro Restaurante y desayuno.
Alojamiento durante una noche en nuestro hotel, con cena en el Restaurante Eutimio (menú compuesto de 4 platos a compartir, postre casero, bebida vino Rioja o Rueda, café y pan) y disfrutando del desayuno completo en nuestro comedor con vistas al mar.
140 euros para dos personas.